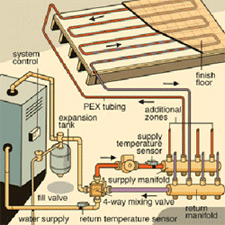 Similar to a common boiler set up with baseboards throughout the house. However, a radiant system directs hot water through a network of piping beneath the floor to provide incredibly even heating. The piping is controlled by a complicated system of valves and controls typically located in a heater room or basement.
The complex nature of this type of system explains the considerable increase in costs. In spite of its high price tag, radiant heating is ideal for new home building (we do not recommend radiant in a replacement situation, because of the costs associated with floor removal).
For boilers used in radiant heating, visit Burnham Hydronics and contact us at 215-945-1598.