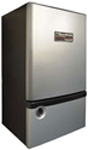 U.S. Boiler Company, manufacturer of quality hydronic-heating products, has introduced more new, high efficiency products over the last several years than any other company at any time in the history of hydronic heating! From new ENERGY STAR certified, gas-fired residential boilers… to high efficiency oil-fired boilers including advanced design, three-pass, cast iron boilers… along with the industry's only, three-pass, oil-fired, steam boiler… and the only atmospheric gas boiler made in America, the ES2, boasting 85% AFUE. Together, the expansive lineup of heating products from U.S. Boiler Company boasts the highest average efficiency, exceeding 85%… with maximum efficiencies over 95%.
Truly, the U.S. Boiler brand has set the new standards for hydronic heating equipment in residential and commercial products, for gas-fired and oil-fired applications, with water and steam boilers and super high efficiency condensing boilers.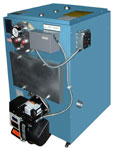 Since 1932, Thermo-Dynamics Boilers have been designed, engineered and manufactured in the state of Pennsylvania, home of some very harsh winters and some very American craftsmen. We're proud of our people and they're proud of their work. The quality we build into each Thermo-Dynamics boiler is well-known: we are one of the country's leading manufacturers of residential steel boilers.
Thermo-Dynamics is a family-owned and operated company committed to producing American-made products with American-made materials. We team state-of-the-art manufacturing technology with ongoing research and development to produce boilers that provide the ultimate in comfort and efficiency, ready to meet the challenges of the 21st century.
Energy Kinetics System 2000
Now you can upgrade your existing water heater and boiler, furnace or heat pump to a single high efficiency system engineered to deliver high performance and exceptional fuel efficiency and economy. System 2000 combines heat and hot water with a single high efficiency appliance to maximize efficiency in all seasons, with the additional benefits of virtually unlimited hot water and whisper quiet operation. With Energy Kinetics' heating systems, hot water is readily available through a high performance hot water storage tank. System 2000 replenishes hot water as needed, and anticipates when no additional hot water is required. At the end of a hot water call, the burner automatically shuts down, the Hybrid Energy Recovery cycle recovers heat left in the boiler and delivers it to the hot water storage tank so no energy is left wasted in the boiler.